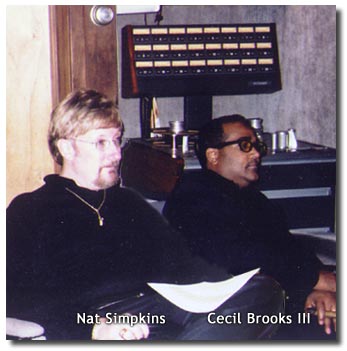 is an independent jazz label rooted in the soulful blues and swing tradition and dedicated to the groove. Bluejay has a unique influence on the jazz scene which has been recognized by fans as well as critics who have given unprecedented rave reviews to every Bluejay release. With a world-class talent roster and a distinctive musical character Bluejay has become a prestigious label and a positive influence on the music scene today. Although the more accessible styles are our primary interest, we will cross into unconventional areas as well.
Bluejay Records was founded in 1998 by Nat Simpkins and Cecil Brooks III. Both of the principals are established recording artists themselves. They also have stellar reputations as producers, having been responsible for many top ten hits. The combination of artistry, production skills, and business acumen make them a force to be reckoned with.
Originally from Pittsburgh, drummer Cecil Brooks III has produced and played on over 300 jazz recordings. He has recorded and performed with Stanley Turrentine, Jimmy Smith, Wayne Shorter, the Dizzy Gillespie Alumnae Band, Houston Person and Etta Jones, the Mingus Big Band, the Enja All Stars, The Dizzy Gillespie alumnae band, Don Braden, John Hicks, Vanessa Rubin, and the Cosby Show Band. Brooks has performed at major venues and festivals all over the world including the Blue Note, the Village Vanguard, Sweet Basil's, and Birdland in New York, Yoshi's in San Francisco, Scullers in Boston, Blues Alley in Washington, DC, the North Sea Jazz festival, the JVC Jazz Festival, the Montreux Jazz festival, the Montreal Jazz Festival and countless other venues the world over. His crackling, exciting and versatile drumming style together with his wealth of experience on stage and in recording studios has made him one of the most in demand drummers in jazz today.
Nat Simpkins is the latest exponent of the "Texas Tenor" saxophone school of Arnett Cobb, Gene Ammons, and Stanley Turrentine. Enticed by the enchanting island rhythms of Bermuda where he spent his boyhood, Nat took up the saxophone and later moved to Boston where he met and performed with the masters of the "Texas Tenor" sound: Arnett Cobb, Eddie Lockjaw Davis, Budd Johnson, Buddy Tate, and Eddie Cleanhead Vinson. Nat has been working steadily since the 1980's performing with many jazz names including all the saxophonists listed above, as well as Houston Person, Grady Tate, Major Holley, Russell Malone, Eric Johnson, Michael Cochrane, Calvin Hill, Dave Braham, Cecil Brooks III, Larry Goldings, and many others. He has performed all over the world at major venues including the Village Vanguard and Birdland in New York and the Red Room and House of Blues in New Orleans. He has recorded five CDs as a leader for Muse and Bluejay Records. He continues to be an active player on the international jazz scene today, adding his robust sound and modern ideas to jazz venues the world over.
Bluejay Records
Phone: 978-314-5854
staff@bluejayrecords.com